Sunday, April 09, 2006
DAILY WAR NEWS FOR SUNDAY, APRIL 9, 2006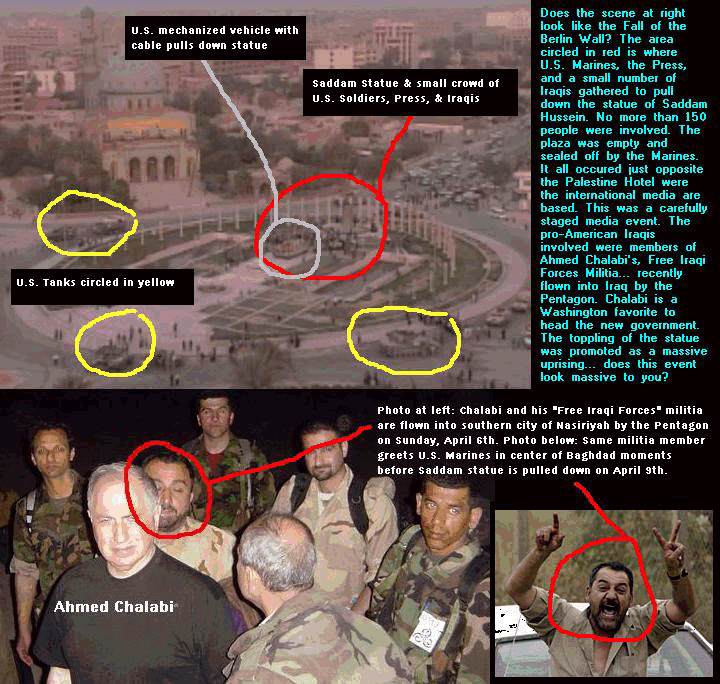 Today is the third anniversary of the scene depicted above, "Iraq Freedom Day," as the news media are calling it. See "History Lesson," below.
Bring 'em on:
A Marine assigned to Regimental Combat Team 5 died from wounds sustained due to enemy action while operating in al Anbar Province April 7.
Other Security Incidents Iraqi police arrest 30 employees of a security company, accuse them of plotting attacks on civilians. U.S. troops and air strike kill 8 "suspected insurgents" north of Baghdad. Also, 4 bodies, handcuffed and shot in the head, found in Dora district. At least five car bombs in and near Baghdad: A bomb meant for police killed a civilian when it exploded at Maysaloun Square in eastern Baghdad. One of the attacks targeted police near a Sunni mosque in the western neighborhood of Ghazaliyah, wounding at least three people Another targeted a convoy of American military police, but there were no casualties, the U.S. military said. One (bomb) targeting an Iraqi army patrol killed a passer-by in Mahmoudiya, about 20 miles south of the capital. Bomb goes off in minibus in eastern Baghdad, killing 3 and wounding 7. NEWS AND POLITICAL DEVELOPMENTS Marine Corps relieves of duty three commanders of the 3rd Battalion, 1st Regiment, accused of the Haditha massacre:
Nancy A. Youssef April 8, 2006 6:16 PM Knight Ridder Newspapers HADITHA, Iraq - In the middle of methodically recalling the day his brother's family was killed, Yaseen's monotone voice and stream of tears suddenly stopped. He looked up, paused and pleaded: ''Please don't let me say anything that will get me killed by the Americans. My family can't handle any more.'' The story of what happened to Yaseen and his brother Younes' family has redefined Haditha's relationship with the Marines who patrol it. On Nov. 19, a roadside bomb struck a Humvee on Haditha's main road, killing one Marine and injuring two others. The Marines say they took heavy gunfire afterwards and thought it was coming from the area around Younes' house. They went to investigate, and 23 people were killed. Eight were from Younes' family. The only survivor, Younes' 13-year-old daughter, said her family wasn't shooting at Marines or harboring extremists that morning. They were sleeping when the bomb exploded. And when the Marines entered their house, she said, they shot at everyone inside. The Navy Criminal Investigative Service (NCIS) began an investigation in February after a Time Magazine reporter passed on accounts he had received about the incident. A second investigation was opened into how the Marines initially reported the killings - the Marines said that 15 people were killed by the roadside explosion and that eight insurgents were killed in subsequent combat. On Friday, the Marines relieved of duty three leaders of the 3rd Battalion, 1st Marine Regiment, which had responsibility for Haditha when the shooting occurred. They are Lt. Col. Jeffrey R. Chessani, commander of the 3rd Battalion, 1st Marine Regiment, and two of his company commanders, Capt. James S. Kimber and Capt. Lucas M. McConnell. McConnell was commanding Kilo Company of the 3rd Battalion, the unit that struck the roadside bomb on Nov. 19 and led the subsequent search of the area. The Marines' announcement didn't tie the disciplinary actions directly to Haditha, saying only that Maj. Gen. Richard Natonski, commanding general of the 1st Marine Division, had lost confidence in the officers' ability to command. They were relieved because of ''multiple incidents that occurred throughout their deployment,'' said Lt. Lawton King, a spokesman at the Marines' home base at Camp Pendleton, Calif., to which they recently returned. ''This decision was made independent of the NCIS investigation.''
Abu Ghraib prison to be converted to warehouse; prisoners in "sovereign Iraq" to be transferred to U.S. military base. Tip 'o the hat to Buzzflash for the cute idea of linking to Material Handling Management for this item. Critical shortage of potable water persists in Iraq, funds are lacking to rebuild the clean water supply. According to Public Works Ministry official Ayad al-Safi, "only 20 percent of last year's reduced funding was released to the public works ministry. "This isn't enough to develop crumbling infrastructure," he said. "The majority of government funds for rebuilding have been diverted to fund security programmes. Because of this, we can only produce 6.8 million cubic meters of the daily 9.6 million cubic meters needed for the whole of Iraq," al-Safi added." Hosni Mubarak says civil war has started in Iraq. Also accuses Shiites in Arab states of having a primary loyalty to Iran. al-Jafaari responds sharply to Mubarak's accusation of Shiite disloyalty. State Dept. report dated Jan. 31, leaked to NYT, paints grim picture.
- Eric Schmitt, Edward Wong, New York Times Sunday, April 9, 2006 Washington -- An internal staff report by the U.S. Embassy and military command in Baghdad provides a sobering province-by-province snapshot of Iraq's politics, economy and security, rating the overall stability of six of the 18 provinces "serious" and one "critical." The report is a counterpoint to recent upbeat public statements by top American politicians and military officials. In 10 pages of briefing slides, the report, titled "Provincial Stability Assessment," underscores the shift in the Iraq war three years after the toppling of Saddam Hussein. Warnings of sectarian and ethnic frictions are raised in many regions, even in those provinces generally described as nonviolent by U.S. officials. The report also raises alerts about the growing power of Iranian-backed religious Shiite parties, several of which the United States helped put into power, and rival militias in southern Iraq. The authors also point to the Arab-Kurdish fault line in the north as a major concern, with the two ethnicities vying for power in Mosul, where violence is rampant, and Kirkuk, where oil fields are critical for economic growth in Iraq. The patterns of discord mapped by the report confirm that ethnic and religious schisms have become entrenched across much of the country, even as monthly U.S. fatalities have fallen. Those indications, taken with recent reports of mass migrations from mixed Sunni-Shiite regions, show that Iraq is undergoing a de facto partitioning along ethnic and sectarian lines, with clashes -- sometimes political, sometimes violent -- taking place in the mixed places where different groups meet.
Full report is available here . (PDF -- warning! Not 56K friendly.) Shiite victims of ethnic cleansing flee to Kut from Baghdad. U.S. army faces shortage of officers as multiple deployments take their toll. Shiite alliance meeting to try to resolve impasse over new government. No news so far. COMMENTARY AND ANALYSIS Threat of Shiite Militias Now Seen As Iraq's Most Critical Challenge. Note the aside that the majority of shootings are never reported. Keep that in mind when you read our own daily roundup -- it's just the tip of the iceberg.
By Jonathan Finer Washington Post Foreign Service Saturday, April 8, 2006; Page A01 BAGHDAD, April 7 -- Shiite Muslim militias pose the greatest threat to security in many parts of Iraq, having killed more people in recent months than the Sunni Arab-led insurgency, and will likely present the most daunting and critical challenge for Iraq's new government, U.S. military and diplomatic officials say. Assassinations, many carried out by Shiite gunmen against Sunni Arabs in Baghdad and elsewhere, accounted for more than four times as many deaths in March as bombings and other mass-casualty attacks, according to military data. And most officials agree that only a small percentage of shooting deaths are ever reported. The surge in sectarian killings, triggered by the bombing of a Shiite shrine in Samarra in late February, had slowed in recent weeks. It was uncertain if attacks on prominent Shiite mosques Thursday and Friday would signal an onset of renewed bloodletting. While acknowledging the instability caused by Shiite armed groups, the largest of which are linked to the country's dominant political parties and operate among Iraq's police and army, U.S. and Iraqi officials here have yet to implement, or even publicly articulate, a strategy for addressing the problem.
Al Jazeera interviews Riverbend. Brief excerpt:
Q. What are the realities that you feel are not reported? A. Real Iraqis, the people currently suffering under a lack of security and a shortage of the most basic necessities like electricity and water, seem to have faded to the background while the media is busy with the failed attempts of the current government to organise themselves. I'm also frustrated with the way the media oversimplifies certain situations - like the sectarian violence being promoted by the occupation forces and the current government.
HISTORY LESSON The news media are calling today "Iraq Freedom Day" (apparently Karl Rove told them to do that) recalling April 9, 2003, when, according to CNN, "Iraqis danced and waved the country's pre-1991 flag in central Baghdad's Firdos Square after a U.S. Marine armored recovery vehicle helped topple the square's huge statue of Iraqi President Saddam Hussein." The image of the cheering crowd and the toppling statue led newscasts and filled front pages all over the United States. What really happened:
Army report confirms Psy-ops staged Saddam statue toppling by Jon Elmer July 3, 2004 – An internal Army study of the war in Iraq has confirmed that the infamous toppling of the statue of Saddam Hussein in Firdos Square in central Baghdad on April 9, 2003 was stage-managed by American troops and not a spontaneous reaction by Iraqis. According to the study, a Marine colonel first decided to topple the statue, and an Army psychological operations unit turned the event into a propaganda moment. At one point during the stunt Marines draped the statue of Saddam Hussein with an American flag. When the crowd reacted negatively to that gesture, the US flag was replaced with a pre-1990 Iraqi flag, missing the words "God is Great," by a sergeant from the psychological operations unit. The Marines brought in cheering Iraqi children in order to make the scene appear authentic, the study said. Allegations that the event was staged were made in April of last year, mostly by opponents of the war, but were ignored or ridiculed by the US government and most visible media outlets.
Believe it or not, here is CNN's story today:
BAGHDAD, Iraq (AP) -- Five roadside bombs killed at least three people in Iraq on Sunday -- the three-year anniversary of Baghdad's fall to U.S. forces. Iraq police and soldiers bolstered security in the capital to prevent attacks on "Freedom Day." The holiday marks the April 9, 2003, event in which a huge crowd of Iraqis cheered as U.S. Marines hauled down the statue of Saddam Hussein on Firdous Square, marking the collapse of his regime.
You can write to CNN here, not that they care. UPDATE: Since I posted, CNN has removed this language. It comes from Vanessa Arrington's report for the AP, as it turns out. So direct your wrath at AP. Then there was that little matter of Saddam trying to manufacture nuclear weapons. . .
Effort against Iraq critic detailed: Cheney at center of campaign, prosecutor says
By Barton Gellman, Washington Post | April 9, 2006 WASHINGTON -- Detailing the evidence against Vice President Dick Cheney's former top aide, Special Counsel Patrick Fitzgerald last week described a concerted effort by ''multiple people in the White House" to use classified information to ''discredit, punish, or seek revenge against" a critic of the war in Iraq. Bluntly and repeatedly, Fitzgerald placed Cheney at the center of the campaign against former US ambassador to Iraq Joseph C. Wilson IV that has been criticized as part of a pattern of selective release of intelligence by the administration to support its policies. Citing grand jury testimony from the vice president's former chief of staff, I. Lewis ''Scooter" Libby, Fitzgerald said Cheney was among at least three White House officials who waged the attack against Wilson. snip [A]ccording to Libby's grand jury testimony, described for the first time in legal papers filed last week, Cheney ''specifically directed" Libby in late June or early July 2003 to pass information to reporters from two classified CIA documents: an October 2002 National Intelligence Estimate and a March 2002 summary of Wilson's visit to Niger. [Here comes the money shot.] One striking feature of that decision is that the evidence Cheney and Libby selected to share had been disproved months before. United Nations inspectors had exposed the main evidence for the uranium charge as crude forgeries in March 2003, but the Bush administration and Prime Minister Tony Blair of Britain maintained they had additional, secret evidence they could not disclose. In June, a British parliamentary inquiry concluded otherwise, delivering a scathing critique of Blair's role in promoting the story. With no ally left, the White House debated whether to abandon the uranium claim and became embroiled in bitter finger-pointing about whom to fault for the error. A legal brief filed for Libby last month said ''certain officials at the CIA, the White House, and the State Department each sought to avoid or assign blame for intelligence failures relating to Iraq's weapons of mass destruction." It was at that moment that Libby, allegedly at Cheney's direction, sought out at least three reporters to bolster the discredited uranium allegation. Libby made careful selections of language from the 2002 estimate, quoting a passage that said Iraq was ''vigorously trying to procure uranium" in Africa. The first of those conversations, according to the evidence made known thus far, came when Libby met with Bob Woodward of The Washington Post on June 27, 2003. In sworn testimony for Fitzgerald, according to a statement Woodward released on Nov. 14, 2005, Woodward said Libby told him of the intelligence estimate's description of Iraqi efforts to obtain ''yellowcake," a processed form of natural uranium ore, in Africa. In an interview Friday, Woodward said his notes showed that Libby described those efforts as ''vigorous." Libby's next known meeting with a reporter, according to Fitzgerald's legal filing, was with Judith Miller, then of The New York Times, on July 8, 2003. He spoke again to Miller, and to Time magazine's Matt Cooper, on July 12. At Cheney's instruction, Libby testified, he told Miller that the uranium story was a ''key judgment" of the intelligence estimate, a term indicating there was consensus on a question of central importance. In fact, the alleged effort to buy uranium was not among the estimate's key judgments, but lay deeper inside the estimate. It said US intelligence did not know the status of Iraq's procurement efforts, ''cannot confirm" any success, and had ''inconclusive" evidence about Iraq's domestic uranium operations. Iraq's alleged uranium shopping had been strongly disputed in the intelligence community from the start. In a closed Senate hearing in 2002, then-director of central intelligence George Tenet and his top weapons analyst, Robert Walpole, expressed strong doubts about the uranium story. The State Department's Bureau of Intelligence and Research called the claim ''highly dubious." Fitzgerald wrote that Cheney and his aides saw Wilson as a threat to ''the credibility of the vice president (and the president) on a matter of signal importance: the rationale for the war in Iraq." They decided to respond by implying that Wilson got his CIA assignment by ''nepotism." Fitzgerald said the grand jury has collected so much testimony, and so many documents, that ''it is hard to conceive of what evidence there could be that would disprove the existence of White House efforts to 'punish' Wilson."
LOCAL NEWS From a contributor who prefers anonymity.
Army Pfc. Ryan Jennings--mortars--shrapnel in both of his legs and his left arm. artery that (was) severed.
Cody Finniessee--IED--Shrapnel from the explosion hit Finniessee's helmet and shattered the microphone on the side of his face.
National Guard sergeant Jose Pequeno--?-- seriously wounded March 1 in Iraq.
First Sgt. Brad Kasal--shot seven times--sustained more than 40 shrapnel wounds
Simon Garcia--?--lost his left eye when he was struck by shrapnel while operating the machine gun atop a Humvee.
Julio Najera--suffered injuries to his left elbow and right knee, injuries that resulted from the daily rigors of combat, not one particular incident.
Shawn Jenkins--?--suffered facial and neck injuries
Steven Firment--IED--shrapnel lodged in my groin, my upper right leg and my right knee
Marine Lance Cpl. Patrick Myers--anti-tank mine--ripped off his legs above the knees
Ethan Biggers, seriously wounded
Army 1st Lt. Ryan Kules--IED, thrown more than 100 feet from his vehicle--lost his left leg and right arm. He was in a coma.
staff sergeant Matthew Bernard--rocket attack-- sustained slight neck injury, a minor concussion, and cuts on his head.
staff sergeant Matthew Bernard--IED--rendered him unconscious and caused a second concussion, shrapnel injuries, and hearing loss in his right ear. Contusions on his brain, he said, have resulted in some loss of coordination, speech impediments, and difficulties with his balance.
James Ehrhart--burned--currently being treated in Texas
Scott (?)--shot by a sniper--gunshot wound to his right leg, in his shin bone
Jose M. Pacheco Jr--IED--shattered one leg and shot shrapnel into his other leg.
Quote of the Day: One thing that bothers me is that many people equate being anti-occupation with anti-American. I am not anti-American - I know many wonderful Americans and correspond and communicate with them regularly. I am, however, anti-occupation. I don't wish for the "days of Saddam", if that's what you're asking. I am, however, completely against the presence of foreign troops in Iraq. Why do you refer to the current Iraqi government as puppets? Because almost all of them are allied with one foreign government or intelligence agency or another. None of them seems to have Iraq's best interests at heart. They are all too busy lining their pockets in preparation for their comfortable retirement from the Green Zone to outside of the country. -- Riverbend
|